Dr. James J. Hickman elected as Fellow of the National Acadamy of Inventors
Hesperos is excited to announce that Chief Scientist, Dr. James J. Hickman, has been elected fellow of the National Academy of Inventors (NAI).  This year's class included 175 innovators from around the world - all of which will be inducted and honored at the NAI's annual meeting scheduled for June 2021 in Tampa, FL.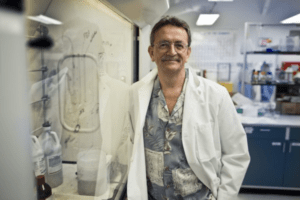 Dr. Hickman is co-founder and Chief Scientist of Hesperos, is the founding Director of the NanoScience Technology Center, and is a Professor of Nanoscience Technology, Chemistry, Biomolecular Science, Material Science and Electrical Engineering at the University of Central Florida. He has been working the area of functional, in vitro systems for close to 25 years and have been one of the pioneers in establishing self-assembled monolayers as a tool for creating compatible biological/non-biological interfaces first in the industry, then in government, and for the past 20 years in academia. He has been heavily involved in utilizing surface modifications to integrate biological and cell-based systems with MEMS devices. Dr. Hickman published the first serum-free, defined culture system for neuronal systems in 1995 (Schaffner et al. 1995) and has extended this from rat to mouse, both embryonic and adult, as well as to human and chimeric systems of human and rat constructs.
While working on his thesis under the direction of Mark S. Wrighton, and in collaboration with George Whitesides, Dr. Hickman developed methods for self-assembling molecules on specific metal microstructures, and adapted Auger electron spectroscopy to characterize the resultant systems. One system was the first molecular based sensor with an internal reference molecule on a microelectrode composed of a pH sensing quinone and a reference ferrocene. The other introduced the concept of orthogonal self-assembly on two different metal microstructures using thiols and carboxycilic acids. Dr. Hickman was one of the first to apply these self-assembly techniques and characterization methodologies for the patterning of biological species, both proteins and cells, in collaboration with researchers at the Naval Research Labs (NRL). The technology developed has led to the ability to pattern proteins, primarily antibodies, and cellular systems, primarily neurons, for commercial products and research tools and enable a tremendous amount of research activity in this area. 
Dr. Hickman's group was the first to apply engineering principles to cell culture to create defined systems composed of non-biological silane surfaces, defined serum-free medium as well as protocols for reproducible cell isolation and culture. The surfaces were fully characterized before use to prove the modification method actually deposited the surface coating of interest which has now been adapted by most labs and has helped contribute to the reproducibility of culture results in this field. The first system was developed for neurons in 1995, and this has subsequently been extended to muscle, neuromuscular junctions, cardiac and now a host of other cell types, individually or in combination. Since all organ-on-a-chip/body-on-a-chip systems have been mandated to eventually be serum-free, as this is a crucial variable that needs to be controlled, this work established a blueprint for establishment of these systems.
In the early 2000s, Dr. Hickman collaborated with Tom Boland on the first cell printing systems, now considered part of the foundation for all the bioprinting efforts that are crucial to the next generation of research in tissue engineering, regenerative medicine, bio-sensing and other biological applications. He has developed the field of functional in vitro systems which endeavors to couple a cell's natural electrical and/or mechanical function to a MEMS device in an effort to reduce reliance on biomarkers in cell based systems. This involves recording neuronal action potentials from microelectrode arrays in defined systems, integration of skeletal muscle and cardiac muscle with cantilevers to measure force as well as combining these systems for neuromuscular junction monitoring where microelectrodes stimulate neurons and the resultant stimulation with a muscle by the neuron is recorded by measuring cantilever motion. These systems are fundamental to making organ-on-a-chip/body-on-a-chip systems suitable for non-invasive monitoring as well as reduce the complexity and cost of cell based systems. This work is the foundation of the systems for Hesperos, a company founded in 2015 to commercialize this technology. 
He has published 150 articles and 20 book chapters and serves as on the Editorial Board of the Journal of Computational and Theoretical Nanoscience, Editorial Advisory Board for Microphysiological Systems as well as on the Honorary Advisory Board for Journal of Biomaterials and Tissue Engineering and Nanotechnology, Science and Application. Hickman is a Fellow of the American Institute for Medical and Biological Engineering (AIMBE), American Vacuum Society (AVS), International Academy of Nanobiotechnology, and now the National Academy of Inventors (NAI).
The National Academy of Inventors is a member organization consisting of universities from around the world, government labs, and non-profit research institutes. Founded in 2010, their mission is to "recognize and encourage inventors with patents issued from the U.S. Patent and Trademark Office, enhance the visibility of academic technology and innovation, encourage the disclosure of intellectual property, educate and mentor innovative students, and translate the inventions of its members to benefit society." The NAI Fellows Program was established to highlight and recognize academic inventors that have made an impact on quality of life, economic development and welfare of society.
Dr. James J. Hickman's Profile