Leading the way in Human-on-a-Chip Research
Hesperos is named for Venus in the evening sky. Like her, we are a leading light, providing world-class research in disease modeling and drug testing through our use of human-on-a-chip systems. Our patent positions and the over 20 years of expertise of both Drs. Shuler and Hickman make us the company to work with for your most difficult problems as well as for cost competitive, routine, human-on-a-chip assays.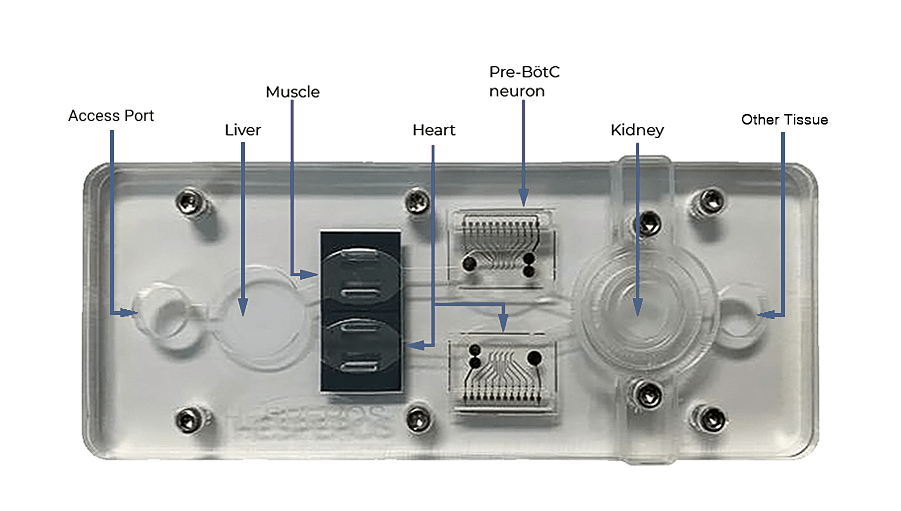 Human-on-a-Chip®
Functional, multi-organ, in vitro platforms
Determine therapeutic index
Reducing the need for animal testing
Focus is on building custom models for therapeutic development
A Platform for every Human Disease
Physiologically realistic models providing unprecedented preclinical insight into disease states and the human response to therapeutics
Simulating Organ Function
Unlike other tests that extrapolate organ function based on biomarker activity and protein analysis, our models are working systems that recreate muscle and tissue function as well as neural and inter-organ communication. The resulting functional reports closely correlate to what clinicians observe in human clinical trials.
Our systems generate thousands of data points which correlate to key functional aspects of each organ.  Our custom analyses are then able to parse the data quickly and fruitfully to identify subtle changes in function alongside large-scale shifts in morphology and behavior, yielding insights into each drug.
Easily interchange an ever-growing list of available organs depending on your application.  Cells derived from patient samples & iPSC.
Heart

Both contractile force and electrical activity measured in real-time

Liver

Functional liver metabolizes drugs as expected in the human body

Neurons

Study neurodegenerative diseases such as ALS and Alzheimers

Skeletal Muscle

Study a wide range of diseases, such as Parkinson's, with a functional neuromuscular junction model

Kidney Renal Proximal Tubule (RPT)

Determine the reabsorption, secretion, and kidney safety profile of your compound
Skin

Determine the transdermal diffusion of novel compounds applied topically and monitor the effects of the absorbed drugs on organ physiology

Blood-Brain Barrier (CNS)

Investigate the transport rates, mechanisms, and barrier effects as novel chemicals and biologics enter the central nervous system

Immune System

Monocytes can be added to the recirculating medium in our multi-organ systems characterized for activation markers and differential cytokine release profiles

GI Tract

Reproduce absorption and first-pass metabolism with our GI-tract model
Select Research Institutes & Commercial Partners
We are funded and collaborate with the best.  A select list as follows:
Hesperos, Inc.
12501 Research Pkwy, Suite 100
Orlando, FL 32826
(407) 900-5915