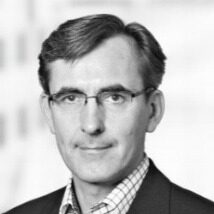 Torsten Hoffmann, Ph.D
Senior Consultant for Drug Discovery
Dr. Hoffmann has a broad background in medicinal chemistry, molecular design, pharmacology & toxicology, as well as drug discovery & development with more than 20 years of international scientific and research management experience. He is the lead inventor of the anti-emetic medicine Netupitant, which received FDA approval as Akynzeo® in 2014, recommended since 2015 by the National Comprehensive Cancer Network, an alliance of 26 of the world's leading cancer centers. At Roche´s headquarter in Basel, he set up the research department for "Discovery Enabling Sciences" in 2003, that encompasses the scientific functions of Assay development, High throughput screening, Drug metabolism and pharmacokinetics, Molecular properties determinations, as well as Miniaturization and automation. From 2005-2013, he has also been heading the Medicinal Chemistry department, where the group created 52 new chemical lead series, 32 molecules transitioned into GLP toxicology studies, and more than 20 NCEs entered clinical trials as potential Roche medicines.
For the past 5 years Dr. Hoffmann has served as Chief Operating Officer and Chief Scientific Officer at Silence Therapeutics in Berlin and London, as Chief Scientific Officer and Managing Director at Proteros biostructures in Munich, and before that as Chief Scientific Officer and Executive Vice President at Zealand Pharma in Copenhagen. During this period and under his leadership, he has been instrumental in building and growing the proprietary R&D portfolios of these Biotech companies with the most advanced clinical assets Dasiglucagon and Glepaglutide, both currently in clinical phase 3 trials for the treatment of diabetic patients (Dasiglucagon) and patients with short bowel syndrome (Glepaglutide).
Dr. Hoffmann holds a PhD in Chemistry from the ETH Zürich, Switzerland, which was followed by a role as research associate at the Scripps Research Institute in La Jolla, California. He has authored more than 95 publications, patent applications and published conference reports. He has served on a number of advisory boards, amongst them on the Corporate Advisory Board of Elsevier, the world's largest scientific publisher in Life Sciences and the Scientific Advisory Board of BioSolveIT, a leading custom scientific software development company based in Europe. His awards include the Feodor Lynen award and a fellowship from the Alexander von Humboldt Foundation, Germany.